For All the Rest of Time, the new album from Agony by Default, available now!
For All the Rest of Time and future plans...
For All the Rest of Time has been out for a few weeks now, and the reception to it has been awesome!  Thank you to everyone who has purchased or streamed the album....which is available via virtually every streaming and digital platform out there.
I will try to get the lyrics posted for the last couple of albums in the near future.
I plan on returning with even more music later in 2020, so stay tuned!
---Matthew
February 7th, 2020
Long-awaited updates: Looking back on Refleksjoner, and ahead to the new album...
It has been well over a year since I have updated the site!  My apologies.  In this day and age, it seems more and more focus is to be had on social media and the like; it's easy to forget to publish timely updates on the regular website.
The album cycle for Refleksjoner has come to a close, and what a cycle it has been.  The album was by far the most popular and well-received Agony By Default release to date, and for that I'm incredibly appreciative.  I'm glad to know that fans, reviewers, and musicians alike enjoyed the music and shared it with so many people.  I was incredibly proud of that album.
With that said...I finally began writing new music last month, and now have a completed product for you all.  For All The Rest of Time will be available in just a couple of weeks, on January 17th, 2020.  It is a 7-track album, and is quite the departure from Refleksjoner.  Instead, it continues on down the path that Catastrophes of the Mind and Chaos and Cataclysm started, and goes further than either one into the realms of melodic black metal/blackened death.  I'm very excited to release this album as well; it was refreshing to do something different again and put out something that's just fucking dark.
Preorders, along with streaming/download of two tracks from the album, are now available on the Bandcamp page at http://www.agonybydefault.bandcamp.com/album/for-all-the-rest-of-time. Feel free to check it out, and share it with anyone you know who may dig it!
---Matthew
January 8th, 2020
Exclusive track stream and review!
To kick the week off, the awesome dudes over at Super Metal World Podcast have just posted an exclusive stream and review of "The Sorrow In Your Eyes" from the upcoming album!  Head on over to their blog to give the song a listen and read the review.  SMW has been an awesome supporter of AbD since their inception, and have a good thing going in general over there...so don't forget to subscribe to their podcast and give their Facebook page a like while you're at it!
Refleksjoner comes out on Friday!
---Matthew
October 8th, 2018
Teasers posted, Bandcamp preorders up, and a previous album gets broader distribution!
In case you missed it, two teasers from Refleksjoner have been posted on Youtube!
Also, preorders are now live over at https://agonybydefault.bandcamp.com/album/refleksjoner!
EPKs have also been sent out to reviewers, blogs, and podcasts.  If you'd like a digital copy to review, send me an email at agonybydefault@gmail.com or hit me up on the Facebook page.
Just one more week until release!
And one more piece of news...previously only available on Bandcamp and Youtube, the debut album from back in early 2017...Genocide For Survival...will also finally be available this week across nearly all digital and streaming platforms as well!  So all three full-length releases will be available nearly everywhere by next weekend.
Cheers!
-Matthew
October 6th, 2018
Album Finally Complete; Tracklisting Revealed!
After 5 long months of hard work, the finishing touches were put on Refleksjoner today, and the tracklisting has been revealed!
Singles and preorders will be up soon!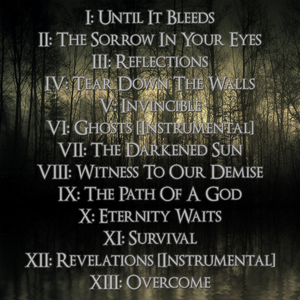 -Matthew
September 6th, 2018
Adjusted Release Date For Refleksjoner
Unfortunately, the release date for Refleksjoner has now been pushed back to October 12th, 2018.
While the album is mostly complete and I'm incredibly excited about it...there have been some delays and things that I don't really want to rush here towards the end, as we finish it up and get it ready for release.  I will, however, be posting some teasers very soon to tide everyone over until then!
---Matthew
July 31, 2018
Album Title, Art, and Release Date!
The upcoming Agony By Default album is titled "Refleksjoner", and will be released on August 10th, 2018. Co-produced by Johnny Dove of Everdying, this album is a fresh offering of American melodeath with a hint of Gothenburg...interchanging melody with brutality, and offering something for every kind of death metal fan out there.  Album art has been posted on the Facebook page, and will be posted here on the official website soon!
I'll be releasing a song or two off of the album sometime this summer...as well as a full tracklisting and preorders a couple of weeks before release...so stay tuned!
Cheers!
---Matthew
June 7, 2018
Album Update and Upcoming Mini-Blog
Work continues on the third full-length album from Agony By Default; it's getting close to finished and I hope to have it done probably around midsummer!  I'll have some more details in the next couple of weeks or so, including album title, release date, tracklisting and more!  I can say so far that this release is much different from recent works, and I'm really excited about it.  Those of you who preferred the debut album Genocide for Survival will definitely like this album, as it goes back a bit more into the death metal side of things once again, and packs a fucking punch.  I've been incredibly blessed to work closely with Johnny Dove of Everdying, who has taken on much more of a producer role on this release and has helped elevate the songwriting tremendously.  This album has a ton of both melody and brutality; the best I can describe it is a very Americanized version of some of the heavier Gothenburg metal.  Stay tuned.
I've also decided during this process to do a bit of a mini-blog, where I'll take the opportunity to discuss Agony By Default and its previous releases, as well as share my thoughts in general on a variety of musical subjects...especially as they pertain to Agony By Default and metal in general.  It'll be an awesome opportunity for you guys to gain some insight into the project and myself as a musician!  Keep an eye on this site and the Facebook page.
Cheers!
---Matthew
May 24, 2018
Back in the studio to work on album #3...
Thank you to everyone who has shown their support for the last couple of releases, Catastrophes of the Mind and the split with Catervatim, Chaos and Cataclysm. Your kind words and support have meant a lot, and I've been incredibly proud of how far Agony By Default has come over the last several years.
As I reflect on the past few releases, and on where I am at now as a musician and songwriter (and in life in general), I have already begun to work on the third full-length album from Agony By Default.
Although I am taking a bit more time with this release...and exploring some new (and old) concepts, styles, and techniques in my writing and playing...I can say that what I have so far is very, very promising and exciting. The goal is always to find a way to take things to the next level...not just heavier, darker, and more aggressive, but also more cohesive and impactful from a basic songwriting perspective.
I'll have more details in the upcoming weeks as I get further into the project. For now, thank you for being a part of this musical journey.
---Matthew
April 23, 2018
Chaos and Cataclysm Out Now!
It's fucking here!  The split album with fellow Laramie, Wyoming death metal outfit Catervatim is now available exclusively through the official website and through both bands' Bandcamp pages for only $5!  This is an awesome, unique blend of brutal modern death metal from Catervatim and the raw, old-school melodic/blackened death metal you've come to expect from Agony By Default.

What's more is that there are multiple guest spots on vocals and guitar from members of other Wyoming bands and studios as well!  Please take a moment to read the credits on any of the pages you purchase from or listen on.  A lot of people put their talents and efforts into making this thing happen, and we couldn't be more stoked with the result:  Pure Wyoming fucking metal.

Agony By Default Bandcamp page: http://www.agonybydefault.bandcamp.com
Catervatim Bandcamp page: http://www.catervatim.bandcamp.com
Cheers!
---Matthew
April 6, 2018
Cover Art and Release Date Released for Split with Catervatim; Teaser Also Revealed
Chaos and Cataclysm, the split from Laramie metal bands Agony By Default and Catervatim, now officially has a release date of 4/6/2018!  A teaser has also been released on Youtube at https://www.youtube.com/watch?v=GkCmV9W0prM . Artwork (from Devin Mayo and Matthew Brammer) was also released recently on both bands' Facebook pages, and will be posted on this site soon.
We're stoked as hell about this release, and we hope you are too!  Stay tuned for more teasers on Youtube and Facebook in the upcoming weeks.
---Matthew
March 4, 2018
Split with Catervatim Announced; New Logo and more!
Exciting news for Agony By Default this week;  ABD will be joining forces with fellow Wyoming metal project Catervatim for a split album sometime in late winter/spring 2018!  The album will be titled "Chaos and Cataclysm", and will be one hell of a release...combining the blackened, melodic death metal of ABD with the brutal/slam death of Catervatim.  I'm incredibly stoked (and honored) to be a part of such a project and join forces with Travis, who is one talented dude and a good friend of mine.  Keep an eye/ear out for that!
Some of you may have also noticed a new AbD logo popping up in a few places, including here on the official website!  That logo is courtesy of Devin Mayo, an extremely talented artist and musician who does some fucking quality logo and artwork.  If you're in a band and need some good shit done, hit him up!  Devin will also be in charge of the artwork for the upcoming split.
Last, but not least, Catastrophes of the Mind will start popping up on all the major online retailers/streaming sites later this week!  Currently it's only available here and on Bandcamp, but that is changing.  Over the next few weeks, I will also finally be getting the back catalogue of ABD releases onto sites such as Spotify, iTunes, etc. as well.
Thanks to everyone for their undying support!
---Matthew
January 17, 2018
Entire Discography On Sale for 50% Off On Bandcamp!
Hey all,

Just wanted to let you know that I have put the entire discography of AbD so far on sale on Bandcamp for 50% off. Literally everything I've released with this project so far for under ten bucks! This includes unlimited streaming (via Bandcamp) AND download (in any format) of the following:

The End of Hope [Demo/EP,2014]
"Regrets" [Single, 2016]
Genocide for Survival [Full-length, 2017]
The Timekeeper [EP. 2017]
Catastrophes of the Mind [Full-length, 2017]

Just scroll down to the "Buy Digital Discography" link to take advantage of the sale price..

But even if you don't want all of that, remember, the brand new full length, Catastrophes of the Mind, is on sale by itself for only $5.

If you enjoy the tunes, please consider purchasing them and helping to support future releases and merch. Unfortunately, music and merch costs money to make/front, and your purchases help make that happen! Help support the scene and the little guys that help make it what it is.

http://www.agonybydefault.bandcamp.com

Cheers,

---Matthew
January 4, 2018
Year In Review/Looking Forward to 2018
2017 has been a busy and interesting year for Agony By Default. After resurrecting AbD late last year, I released the first full-length album, Genocide For Survival in February of 2017...and followed that up with The Timekeeper EP in April. And, of course, I capped the year off this month with the release of Catastrophes of the Mind, an album that I'm incredibly proud of and hope you're all enjoying.
Each release has been a blast to write and record, and as always, I feel that constant growth and evolution is the mark of a dedicated and true musician. While the music has remained dark and heavy, and has always come from the heart, each release has come from a different part of me and tells its own story...a story I'm glad that many of you have been a part of, and one that I hope to continue to write and share for quite some time.
I continue to work on music nearly every day, and have much in store for 2018.
I realize that I have not been able to put a lot into merch, or making material more widely available (i.e., iTunes and such). Some of that is a resource/finances issue. I hope to be able to change that in the coming year. As many of you know, I do have a full-time day job and a family which I must provide for.....and being an independent, solo extreme metal musician isn't always easy from the aspect of time and finances.
Thanks to every one of you who have shown their support, and thanks to all of you who keep metal alive and flourishing in general. You all are the real MVPs.
---Matthew
December 30, 2017
Catastrophes of the Mind out now!
Today is the day!  CotM is available here on the official website, as well as on Bandcamp (which gives you a lot more download options, plus unlimited streaming)!  Take a listen, share it with your friends and fellow metalheads, and don't forget to grab it yourself...it's only $5!
As always, thanks to everyone who has purchased it already, and to all of those who have supported AbD from the very beginning.  It's been awesome, and there's plenty more to come.  Cheers! 
---Matthew
December 22, 2017
Another New Song!
I've decided to throw another new song out there for you guys ahead of the album release on Friday!  "Plague" is actually one of my personal favorites on the album, and I hope you enjoy it.  It can be viewed here on the website, as well as on Youtube, and over on Bandcamp.  It is available immediately along with "Mistress of Agony" for anyone who preorders the album.  Stay tuned for more!
---Matthew
December 20, 2017
New Song and Countdown To Release
Last week I posted the artwork to the upcoming album Catastrophes of the Mind, along with the tracklisting, some teasers, preorder info, new photos, and finally a full single, "Mistress of Agony"!  The response has been awesome, and I'm glad everyone is digging it.  If you haven't checked it out yet, do yourself a favor and head to the Music tab of this site, scope out the preorders on Bandcamp, or take a look at the video on Youtube at https://www.youtube.com/watch?v=9qcLh9JHPSY.  The album drops at the end of this week, and preorders are only $5, so get in on this shit!  I've also revived the AbD Vampirefreaks.com page as well, so feel free to check that out if you hang out over there.
Much more to come in the upcoming weeks, so stay tuned!
---Matthew
December 19, 2017

 
Album Updates and Information
Hey all; I have a bunch of information and updates for everyone.  The writing and recording of the upcoming album is finished, as is much (if not most) of the mixing and mastering process.  So without further ado, here's everything you need to know about it!

The second full-length album from Agony By Default will be titled Catastrophes of the Mind, and will be released on December 22, 2017.  Teasers have been posted on the official Facebook page, along with the official tracklisting, which is as follows:
I.  Premonition [Intro]
II.  Mistress of Agony
III.  Your Gods Still Bleed
IV.  Eternity Stares At Me
V.  I Am A God, and This Is My Grave
VI.  The Darkness Within [Instrumental]
VII. You Believe In A Lie
VIII. Plague
Album artwork, along with a single from the album, will be posted soon!  This is perhaps the darkest, heaviest, and most aggressive AbD release to date...particularly appealing to fans of Behemoth, Dissection, Vehemence, Satyricon and more...and I can't wait to share it with you all!  It will be a monumental end to a busy year for Agony By Default, which already saw the release of the first full-length Genocide For Survival and the follow-up EP, The Timekeeper. I also have plenty in store for the new year as well, so keep an eye out.

Side note:  I will be working on the site periodically over the next few weeks, so some stuff may be missing or incomplete for a while.  I hope to have a revamped/overhauled site completely done by the new year.

Cheers!
---Matthew
December 8, 2017
Agony By Default Returns to the Studio...
After a few months off, I have begun writing material for the next AbD release, and have a whole bunch of cool stuff planned.  Keep an eye out for updates and random shit over the next few months, especially on the Facebook page!
The next release is definitely going to be interesting.  So far I've been going back to a lot of black metal and blackened death that I played early in my career...while still continuing with a lot of the more traditional melodic death metal from Genocide for Survival and The Timekeeper.  It's early in the process so I can't divulge a whole lot, but it's been awesome so far and I can't wait to see where the process takes me. 
Cheers!
---Matthew
November 3rd, 2017
The Timekeeper EP available now!

The Timekeeper EP is now available on this site and on the Bandcamp page!  Give it a listen, and make sure to share it if you dig it!  Also posted on the Facebook page for easy streaming as well!

---Matthew

April 3rd, 2017



More new material!

Thanks a ton to everyone who has streamed, bought, shared, etc.  Genocide For Survival.  I hope you're all digging it!

Over the last few weeks I've already been at work on another, smaller handful of songs for a follow-up EP, which I'm currently putting the finishing touches on.  The new EP is titled The Timekeeper, and it continues down much of the same path that Genocide did...but with some new twists and a bit of a different mood.  I talked about it a little bit on the Facebook page, so I'll just carry that over here:

"I mentioned before that I got back to my roots a little bit on this one. Agony By Default has always had a little bit of old school deathcore elements in it, even on Genocide, but as someone who grew up playing and listening to straight up death metal, black metal, grind, etc., I've slowly gravitated away from the typical modern scene and gotten back towards that. You saw that a little bit with Genocide, but the new EP seems to bring me full circle, which is kindof cool.
This EP is titled The Timekeeper, and lyrically it deals with a lot of existential type stuff that I think about. Life, death, age, the struggle of life, and the passage of time. The album art is a common depiction of the Egyptian god-king Osiris, along with Isis. The story of Osiris (and to a lesser extent, Isis) was the closest thing I could find to represent some of what I was trying to communicate lyrically. It was fitting as well, since there is a lot of Nile influence on this EP musically, a lot of Egyptian-sounding type stuff and whatnot. So it came together really well, even though it's still a bit abstract."

So there you have it.  I think for anybody more into old school, traditional death metal, this will definitely be a nice little gem!  I had a lot of fun with it.

Keep an eye out on the FB page and this site.  Also, I just posted the EP art over there as well, so take a look!

---Matthew

March 26th, 2017





Limited early album release+full album stream!

Hey all!  After finishing the album (finally!) this week, I decided to go ahead and do a limited early release and a full album stream!  The album can be purchased right now on this site as well as on the Bandcamp page (www.agonybydefault.bandcamp.com); it will be available everywhere else on the normal release date of 2/17/17.

Additionally, the entire album can be streamed right now on Youtube at https://www.youtube.com/watch?v=iq37sVTDeoM.

I hope you guys dig the album!  A lot of time and hard work went into this, and I couldn't be more proud of it!  Be prepared to have your faces melted.  There's a ton of material on this release, and it's a pretty dynamic album.  I can safely say it's the most thought-out, varied, detailed release I've ever put out in any band I've been in, and it makes me incredibly excited for the future of this project!

As always, keep an eye out on the Facebook page for news, updates, and more!

---Matthew

February 8th, 2017


 

Lyric videos...

Two lyric videos have been posted, one for "Regrets" (single released back in November) and the other for the new single, "Shallow Grave", off of the upcoming album Genocide For Survival.  They\re both on Youtube, Facebook, and here on the site.  Enjoy!  If you dig the songs, don't forget to share and spread the word!

---Matthew

January 19th, 2017
 



Genocide For Survival: Release Date, Preorders, and a new song....

Here we go.  Genocide For Survival, the first full-length album from Agony By Default, will be released on February 17, 2017.  Preorders, album art, and tracklisting are currently up on the Bandcamp page, and the preorder includes instant download (any format) and unlimited streaming of a new single off the album, "Shallow Grave".  The single can also be purchased by itself here on the official website (.mp3 only). Lyrics are available for "Shallow Grave" on both sites as well.

I hope you all dig the new tune!  If not, I can promise you there's a whole lot of different stuff going on with this album, so fear not. I'm stoked to have you guys hear it. Stay tuned for more updates on the album, distribution, and future plans.

---Matthew

January 13th, 2017

 


Album Title, Updates, and more...

So, I'm about halfway into writing the full length album; thought I'd share a bit about it. This is kinda long, but I wanted to put it out there anyway.
I actually began writing lyrics for this album well before I even picked up the guitar. The more I wrote, the more I realized there was a common theme that I ended up sticking to later on. The result is becoming a semi-concept album, dealing with some controversial subjects and some food for thought concerning the world we live in.
What started as general frustration with modern society, our destruction of the planet, the human race's affinity for self-destruction and conflict, and the general concept of "Idiocracy", became an internal discussion questioning what measures we would have to take to fully reverse everything, to start over, to undo the damage, etc. What would it take to right the ship? To start anew?
As I went down the rabbit hole, I began discussing the controversial concept of population control/reduction, state-sanctioned genocide, and, basically, the concept of a worldwide purge of humanity. A worldwide, collective effort to destroy the human race and start over with a small population of survivors.....the only way to ensure the survival of the planet and of the human race.
There are a lot of parallels so far on this album that will probably be misinterpreted, criticized, etc....and that's fine by me. My lyrics are not for the squeamish. They discuss war, plague, mass suicide, sanctioned genocide, etc. They discuss governments colluding to slaughter most of us. There is even a song entitled "Worldwide Reich", not just addressing that collusion, but actually encouraging it. I'm sure there are plenty of parallels that people will draw and conclusions they will jump to.
But perhaps it will open some people's minds to deeper discussion about what the fuck we're doing wrong...as a society, to each other, to ourselves, and to this planet. It's a discussion of everything from general, everyday stupidity, to our apparent outright need to fucking destroy everything.
The album is entitled "Genocide for Survival". I will post the artwork tomorrow, which is bad-fucking-ass and I'm stoked about it.
-Matthew


----December 13th, 2016


New Music+Updates...

The moment has finally arrived...new music from Agony By Default for the first time in over 2 years.  Check out the single "Regrets" here on the official website, Bandcamp, Reverbnation, and more!  It'll be available soon through all major digital retailers (iTunes, Spotify, etc.) as well. "Regrets" was recorded here in my home studio in Laramie, with the help and input of a few awesome people, namely Travis from Only Home (Laramie, WY) and Johnny Dove of everdying (Chicago, IL) and I'm stoked with how it turned out.  It's dark, melodic, and still brutal...and I hope you guys (and girls) dig the shit out of it.

In other news, I'll also finally be getting the old The End of Hope EP up with those retailers soon.  In the meantime, it's back to work as I continue writing and recording material for the full-length album...which I hope to have out in 2017.  This one is going to be a blast; it's shaping up to be a semi-concept album, and I can promise you it's going to be killer....continuing on the same melodic-yet-brutal path that "Regrets" went down.

Anyway, that's all for now.  Stay brutal.

#AbD2017

Cheers,

----Matthew
November 22, 2016
 


Returning from the Ashes...

Hey all!

After nearly two years, Agony by Default is active once again.  Sometimes life gets in the way of things, especially for indie artists...but I've finally been able to pull this project back from the ashes.  I've begun writing and recording material for the next release, and I can tell you I'm incredibly stoked about what's going on here.  I hope to be able to share a song or two with you all very, very soon.

Thanks to everyone who has supported Agony By Default from day one, and I apologize for the long wait.  But AbD is back with a vengeance at last.  Keep an eye out here and on the Facebook page for details and updates.

#AbD2017

All the best,

---Matthew
November 2016